KA 71 – Channel mixing headphone amplifier
Purpose
KA71 is a stereo headphone amplifier with additional function of stereo channels crossmixing. As such it is designed for Amiga computers. Amiga sound chip Paula sends two of its four audio channels to stereo left channel, two to the right channel. They are fully separated, which is annoying especially when listening with headphones. KA71 can mix stereo channels at a level adjustable with a knob, from full separation to mono output. It can be also used with computers having monophonic audio, or to mix two computers simultaneously playing parts of the same song. Of course one can also use KA71 as a regular headphone amplifier with smartphones, music players, computers and other sources.
WARNING: KA71 amplifier, depending on input signal, connected headphones and volume set, can produce sound pressure levels higher than 85 dB. High sound pressure level is harmful and may cause irrecoverable damages to your hearing sense. 85 dB is considered safe for continuous listening. Be careful turning the volume up and switch off the amplifier when changing signal sources!
Features
Freely adjustable stereo channels crossmixing from pass through to full mono.
Can be used as mixer/pre-amp for a loudspeaker power amplifier or active loudspeakers.
High output power, able to drive high-impedance phones.

SPL gain can be used to calculate maximum sound pressure level produced by headphones of sensitivity given in dB/mW. For example 32 Ω phones with sensitivity of 102 dB/mW can generate 102 + 20 = 122 dB peak SPL.


High audio quality, low distortions, low noise, wide bandwidth (10 Hz to 30 kHz).
May be powered either via micro USB socket (from computer, USB hub, phone charger, powerbank), or 3 AAA batteries (one use or rechargeable).
Batteries need not to be removed when using USB power, they are disconnected automatically.
Selected high quality components. Only polyester and HQ aluminum electrolytic capacitors in the audio path.
Modern design using mostly SMD parts.
Durable aluminum encolsure.
Photos
User's Manual
Front Panel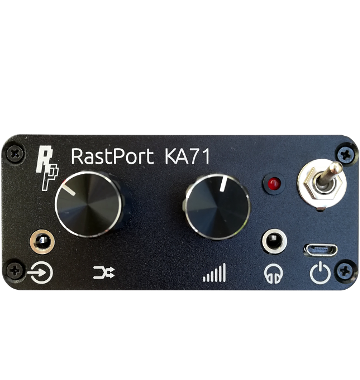 Power Supply
The amplifier may be powered from USB or from batteries. It has a standard micro USB type B socket, the same as used in most of smartphones and tablets. Power requirements of KA71 are low, so it may be powered from any desktop computer, laptop, USB hub, phone charger or powerbank, using standard USB type A to micro USB type B cable. The amplifier only uses USB power, data lines are not connected inside.
In case when batteries are inserted and USB power is connected at the same time, batteries are automatically disconnected, so the device works on USB power. Then there is no need to remove batteries each time USB power is used.
Batteries
KA71 uses three AAA size batteries. Accepted types are single use zinc or alkaline batteries, as well as rechargeable NiMH ones. To insert or replace batteries:
Disconnect all the cables, switch off the power switch.
Unscrew two front upper screws. Use a screwdriver with Phillips size 1 (PH1) tip.
Unscrew two rear upper screws.
Pull the upper half of enclosure up. It is not connected to anything.
Remove old batteries if any (new amplifier comes without batteries installed).
Insert new batteries, observing polarity, which is shown on the holder. If not sure, negative terminals should contact with springs.
Put back the upper half of enclosure. Note that it only fits one way, you may need to turn it by 180°.
Carefully screw in the screws. Note that a steel screw may damage aluminum thread easily. Start with bare hand, use screwdriver after making a few turns. Avoid excessive tightening.
Verify that power LED lits when the power switch is switched on.
Remember:
Even if you use rechargeable batteries, they are not being charged while USB power is connected. To recharge them you have to remove them from KA71 and use a standalone charger for NiMH batteries.
Do not keep discharged batteries inside the device for a long time. Battery leak may seriously damage the amplifier.
Specification
Physical
Width: 88 mm.
Height: 38 mm.
Length: 130 mm.
Weight: 235 g (without batteries).
Input
Socket: mini jack 3.5 mm stereo.
Input impedance: 50 kΩ.
Maximum input signal amplitude: 5 Vp-p.
Voltage gain: 3.
Output
Socket: mini jack 3.5 mm stereo.
Rated peak output power (1 kHz sine wave, THD less than 0.01%):

16 Ω load: 50 mW
24 Ω load: 75 mW
32 Ω load: 100 mW
60 Ω load: 150 mW
100 Ω load: 160 mW
300 Ω load: 55 mW
600 Ω load: 25 mW

Rated power bandwidth: 10 – 30 000 Hz (−3 dB power)
THD at rated power (32 Ω load):

Less than 0.01% at 1 kHz
Less than 0.05% in the whole passband.
Power Supply
Type: USB 5 V (via micro USB type B socket) or 3 × AAA cells inside, rechargeable (NiCd, NiMH) or single use (zinc, alkaline).
Batteries cut-off voltage: 2.7 V (0.9 V per cell).
Estimated battery operation time

alkaline 1000 mAh cells: 30 hours
rechargeable 750 mAh NiMH cells: 20 hours.

Supply current, 32 Ω headphones (for batteries supply current depends on discharge level):

idle (no signal): 16 mA from USB, 24 mA from batteries
listening to pop music, loudly: 30 mA from USB, 35 mA from batteries
continuous 1 kHz sine wave at 50 mW RMS: 175 mA from USB, 180 mA from batteries
Schematic Diagrams
Power Section
Input Stage
Output Stage